World's Largest Garage Sale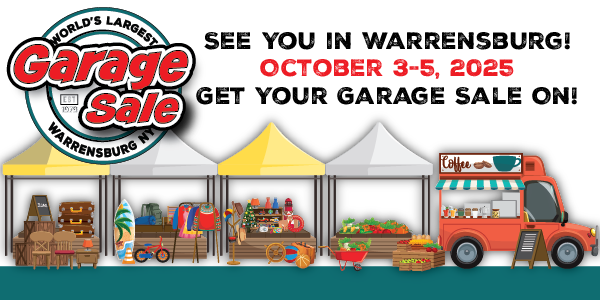 On September 30th and October 1st more than 500 vendors from across the nation, set up shop in Warrensburg New York. Our two day, town wide sale is truly a shoppers paradise you will find antiques, memorabilia, clothing, furniture, electronics, children's items and much much more! Visitors will also enjoy food, music and the local culture and hospitality of our Adirondack community.
Lodging
Make a weekend of it and stay over night check out our local lodging!
Parking
- Richards Avenue Paid Parking - The best Location &The Best Price!
For only $10 park at the Richards Avenue Lot located directly across from Hudson Headwaters Health Center and next to Warrensburg Laundry.
- Fairgroind Park & Ride - For only $5 park all day at The Warren County Fairgrounds and ride the FREE all day shuttle service to Main St. Shopping and Residential Warrennsburg Sales. To park at Warren County Fairgrounds use exit 23 off the Northway, look for signs directing you to location.

- Free Bus Service
Shop all of the World's Largest Garage Sale and ride the Warrensburg Bus. The bus is free to all visitors and travels to Main St. Shopping and Residential Warrennsburg Sales. Riders can get on and off at designated stops along the route from 8AM to 5:30 PM and ride back to the Fairgrounds. Look for Bus Stops for on/off spot. Plan your route today! Download Bus Stop Map (coming soon).
Driving Directions
Use one of four exits off I-87
Exit 22 Lake George - Proceed north on Route 9
Exit 23 S Warrensburg turn Right to head to Main Street Shopping or Left for Park and Ride
Exit 23 N Warrensburg turn left to head to Main Street Shopping or Right for Park and Ride
Exit 24 Bolton Landing -Proceed south on Schroon River Road to free parking and/or straight into Warrensburg
Exit 25 Chestertown - Proceed south on Route 8 then head south on Route 9 to Warrensburg