Blog
Sulla Terra Celebrating Opening of New Location at 3915 Main Street Warrensburg March 15th at 3:30PM
3/13/2023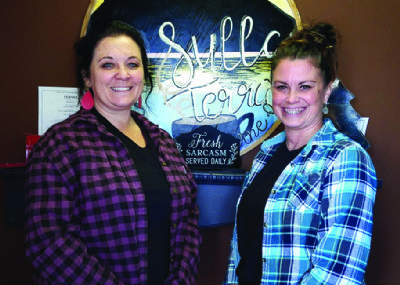 Sulla Terra Celebrating Opening of New Location at 3915 Main Street Warrensburg March 15th at 3:30PM


WARRENSBURG, NY Sulla Terra will be celebrating the opening of their new location at 3915 Main Street, Warrensburg NY on March 15th at 3:30pm. A ribbon cutting ceremony will kick off the event presented by The Warrensburg Chamber of Commerce. The grand opening celebration is open to the public and will include tasting menu option, and their barista will be on hand to serve up coffee flight options.
Owner April Fiorentino said "Sulla Terra is a hometown Bistro and Bakery. My vision was to open in the Warrensburg Community and offer flavors and dishes that were not typical to the area, something different, not your typical BLT. "After timeless hours spent on creating a menu with innovative flavors and creations, Sulla Terra's original location opened in the middle of the pandemic in 2020. Quickly out growing the small coffee/bistro shop that located on upper street, Sulla Terra owners began looking for larger space in early 2021. When the former The Bill's Diner located at 3915 Main Street in Warrensburg became available it was a perfect home for their new location. In addition to a location Courtney Sprague came on board as a partner.
With the dedication of their friends and family a lot of hard work, construction delays and countless hours of renovation, Sulla Terra opened their new location November 3rd, 2023. Sulla Terra has revamped their menu to go along with their new location. Sulla Terra's strives to compliment the growing Warrensburg food scene. "We believe everyone should have their own niche, their specialty. Our vision is to keep your experience at Sulla Terra original, unique and down to earth as our name suggests." It is important to the partners of Sulla Terra Courtney and April, to honor the locations storied past and retained certain nostalgia so locals could have a little piece of the hometown hangout from the well-loved Bill's Diner. Original shiplap tongue and groove was found during renovation and the original counter seating was preserved. "We have a memorial wall up with photos of the old-timer's coffee club who have since passed on." Stated April Fiorentino
Supporting the community that has supported them, Sulla Terra is involved in community events, school fundraising, donations, community fundraising, along with a monthly $25 gift certificate drawing to other local businesses. They pride themselves in supporting our local law enforcement, first responders and military, offering a discount whenever they come in. From their specialty original sandwiches and drinks to their homemade baked goods and newest menu items -- like their delicious smoothie bowls and deep-dish gluten free quiche Sulla Terra is certainly on its way to becoming the communities go-to location.
"The town of Warrensburg may be a small town, but its economic development is just beginning. More and more businesses are opening and thriving, and we couldn't be happier. We are starting to see business throughout the year, not just the summer months. We are happy to be a part of the success that is coming to this community. If all business owners come together in support of our community and each other, all will thrive. "One of the marvelous things about community is that it enables us to welcome and help people in a way we couldn't as individuals. When we pool our strength and share the work and responsibility'" -- April Fiorentino

About Sulla Terra: Founded in 2020, Sulla Terra Bistro & Bakery is a full-service American Bistro, specializing in creating a variety of delicious from scratch desserts made daily. Serving breakfast, lunch, and dinner at their location on 3915 Main Street Warrensburg NY. Custom order baked goods, catering available for special events.
---