Blog
LakeGeorge.TV, Warren County streaming video app, debuts May 1
5/2/2023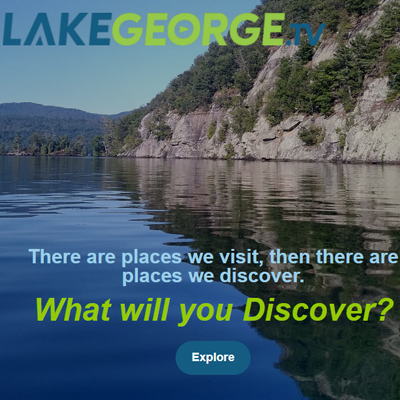 Warren County's new countywide video streaming channel, LakeGeorge.TV, launched Monday, May 1st with a growing platform of over 230 videos that detail local businesses, attractions and more.
Developed by Hood Communications, an affiliate of Look Media Resource of Glens Falls, LakeGeorge.TV (LGTV) was funded by Warren County occupancy tax proceeds to help visitors, prospective visitors and residents alike have easy access to a vast collection of videos about the myriad things to do and see in the Lake George Region and all corners of Warren County.
And because it is being funded through the occupancy tax program, it is free for visitor- and tourism-related business owners and organizations to participate and share their videos!
LakeGeorge.TV is dedicated to promoting the people, places, businesses and organizations that make Warren County a unique and exciting place, 365 days a year. Users will find videos featuring businesses, attractions and recreation areas large and small, categorized on the app for easy browsing.
LakeGeorge.TV is available for free on all digital devices, including smart televisions, mobile devices, web browsers and streaming players such as AppleTV, iOS/Android and ROKU.
Said Gene Merlino, Lake Luzerne Supervisor and Chairman of the Warren County Board of Supervisors Tourism Committee: "We are happy to announce LakeGeorge.TV is ready for residents, visitors and businesses to use and enjoy! You will find a wide variety of informational videos that detail many businesses, attractions and recreation areas from around Warren County, and the LakeGeorge.TV video library is growing by the day. We thank Hood Communications and our local business owners for making this new resource available in time for summer here in Warren County."
Said Jesse H. Jackson, Executive Director of Hood Communications: "We now live in a video-centric universe controlled by consumers who communicate via video. They demand engaging content delivered in a programming environment that offers variety, is entertaining, exciting and presents options 24/7, 365 days a year-- across all digital options. That's what LGTV will deliver."
Said Ed Larkin, Executive Vice President of Hood Communications: "As the fastest growing medium to reach highly engaged and targeted audiences, connected TV has become the de facto way to communicate with consumers. LGTV is a unique opportunity for all entities, large and small, to showcase their unique selling proposition under the umbrella of a united Warren County brand strategy."
If your tourism- or visitor-related Warren County business or organization hasn't become part of LakeGeorge.TV yet, it's not too late.
Eligible businesses in Warren County can learn more about the channel or upload their videos at: joinus.lakegeorge.tv/upload-a-video or by contacting Ed Larkin at: 518.225.0767 or
elarkin@lakegeorge.tv.
[Show]
---